Download Bible study software based on the Authorized King James Version
These are "try before you buy" programs. Download and try them out before you order!
All software listed here requires Windows (8, 10, or 11).
SwordSearcher Bible Software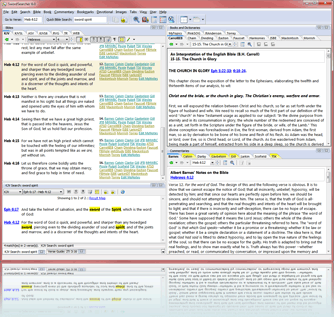 SwordSearcher is all about believing Bible study, both in-depth and devotional.
SwordSearcher Bible Software helps you improve the efficiency of your Bible study.
Find verses instantly. You'll never bother with and "online Bible" website again.
Topical studies couldn't be easier thanks to the Topic and Verse Guide.
Pasting verses in your emails and other documents is just a few keypresses away whenever SwordSearcher is running. Share God's word in Microsoft Word or any other text editor with a keypress.
An entire library of reference material always at your fingertips, thoroughly indexed. Dictionaries and commentaries are integrated in a way that makes locating relevant material a snap.
SwordSearcher comes with a huge Christian reference library, and even more is available for free from the Module Repository. Read some excerpts from the study library.
But most importantly, Scripture is front-and-center. With the most powerful search tools available, allowing the Bible to interpret itself has never been easier.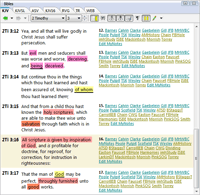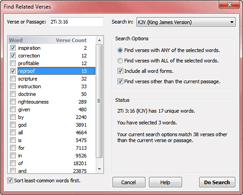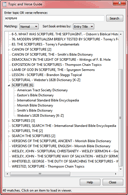 Daily Bible and Prayer
Daily Bible and Prayer is designed specifically for personal devotions.
Make Bible reading plans. Choose from two pre-defined Bible in a year plans, or create your own plans based on what you need to read and when you need to finish reading it.
Read C. H. Spurgeon's Faith's Checkbook daily devotional.
Manage your prayer list.
©2014 Brandon Staggs.